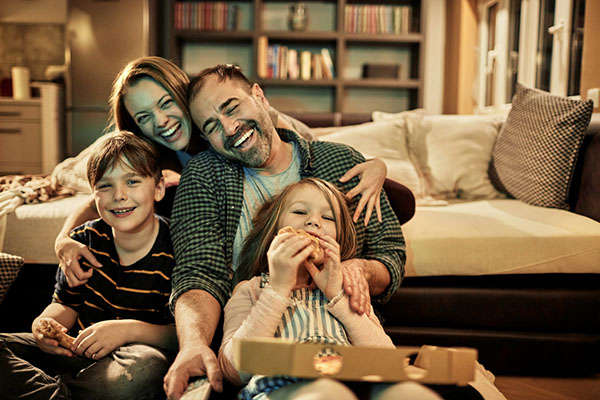 You look forward to the weekend all week long. It's your chance to relax and have some fun after hours spent working. However, when money is tight, it's hard to have fun on your off days. If you have kids, the expense can be higher. Here are a few family fun ideas to try on the weekend without breaking your budget.
Pizza Party
Skip the expensive pizza delivery order, and enlist your family to help make dinner. You can buy everything you need to make a pizza at the grocery store, including refrigerated pizza dough. You can make it even more fun by letting each person make an individual pizza. You can cut the pizza dough into quarters and roll out smaller pizzas. Set out bowls with your family's favorite toppings. Each family member can decide how much sauce and cheese they want before adding their favorite toppings.
At Home Movie Night
One of the best family fun ideas is to simply stay in and enjoy a movie. It can cost almost $100 to take a family of four to the movies, and that can be a large hit to any budget. However, you can stream a movie into your own home with services, such as Apple TV and Amazon. Choose a movie the entire family wants to see, pop some microwave popcorn, and distribute everyone's favorite candy. You can turn the lights off to make it seem more like going to the theater. Encourage your children to wear their most comfy pajamas for a unique experience. Of course, this movie night will be more comfortable than going to a theater.
Photographic Scavenger Hunt
What kid doesn't love the idea of a scavenger hunt? When the weather is good, you and your family can take part in a photographic scavenger hunt. You can break your family into a couple of teams with each team taking a mobile phone with a camera. Set a time limit and head out into the neighborhood and surrounding area to find the items on your list. Your list can include things such as:
Orange cat
Black dog
Yellow flower
Red mailbox
Green truck
White Van
Red flower
Blue flower
Swing set
You can make your list as long as you like, and your imagination is the limit. After the time expires, both groups meet back at the house to crown a winner. You can make the prize something fun, such as the losers serve snacks to the winner. You can offer the winners a week without chores. This type of activity offers your family something fun to do and encourages them to get outside and get active.
Dinner and Stargazing
Kids love eating outside and playing in the yard after dark. For some fun family time, enjoy a dinner under the stars. You can fire up the grill for burgers or cook in the house and bring it outside. If you time it right, you can enjoy dinner as the sun sets. Before your dinner under the stars, do a little online research to brush up on the most easily seen stars and constellations from your location. Many of the constellation names come from mythology, and children love hearing those stories. If you have a telescope, bring it outside to get a better look at the moon and stars and planets that you can't see with the naked eye. You can even ask your friends to see if one of them has a telescope you can borrow. It's an evening that your kids won't forget.
You don't have to spend a lot of money to have fun with your family on the weekends. Spending time outdoors offers many opportunities for fun and provides a little extra exercise. Use some of these family fun ideas and with a little preplanning, you can make the most of your family time without breaking your budget.